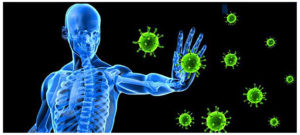 (Part 1 of 3 Part Series)
Have you ever thought about how immunity works? If so, you might have realized that immunity keeps us from becoming sick in different ways. Two types of immunity exist — active and passive:
• Active immunity occurs when our own immune system is responsible for protecting us from a pathogen.
• Passive immunity occurs when we are protected from a pathogen by immunity gained from someone else.
Both of these different types of immunity can be acquired in different ways.
A third category, community immunity, does not involve physical components of the immune system for protection, but is still worth discussion in this capacity.
So, let's take a closer look at each.
Active immunity
Individuals rely on active immunity more so than passive immunity. Active immunity is created by our own immune system when we are exposed to a potential disease-causing agent (i.e., pathogen). Most of the time, we are exposed to these potential pathogens naturally throughout the course of our day — in the air we breathe, the food we eat, and the things we touch. Luckily, most of these exposures are to agents that will not result in disease, either because they are harmless or because our immune system works to neutralize them.
In addition to "fighting off" these pathogens, active immunity is important because it lasts a long time in the form of immunologic memory. Immunologic memory consists of B and T cells that can recognize a particular pathogen (see "Adaptive immune system"). These cells circulate at low levels in our bodies and if "activated" by recognizing that pathogen in their travels, they quickly start to multiply and signal other elements of the immune system to activate as well. Memory cells are crucial for two reasons. First, they allow our immune systems to respond quickly. Second, they are specific for the pathogen, so the immune response is ready the moment the pathogen is encountered (see "Immunologic memory").
Because we don't know about most of the work our immune system does, we often do not think about how busy it is. But, the reality is that like our hearts and lungs, our immune system is constantly working to keep us healthy. This effort is evidenced by the fact that our immune system generates grams of antibodies every single day!
Vaccines contribute to active immunity by providing us with a controlled way to create an immune response. When a vaccine is introduced, our immune system treats it like any other exposure. It works to stop the "assault" and, in the process, immunologic memory develops. Because vaccines are designed such that they do not cause illness, we gain the benefits of the exposure without the risks associated with fighting off a natural infection. In this way, vaccines offer our immune systems a chance to "train" for a future encounter and provide us with a "shortcut" to protection. We gain the immunity that follows surviving a natural infection without having to pay the price of natural infection.