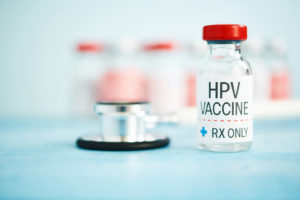 On August 16, CDC published updated guidance on the use of Human Papillomavirus Vaccination for Adults (HPV vaccine): Updated Recommendations of the Advisory Committee on Immunization.
The recommendations now include the following updated information:
• For children and adults age 9 through 26 years: The vaccine is routinely recommended at age 11 or 12 years, but vaccination can be given starting at age 9 years. Vaccination is now recommended for all persons (both males and females) through age 26 years.
• For males through age 26 years: As noted above, ACIP now recommends routine HPV vaccination for all persons in this age group. Previously, ACIP recommended routine vaccination for males only through age 21; for males age 22—26, vaccine was recommended only for those with risk factors or for those who wanted to be protected from the disease. ACIP has routinely recommended HPV vaccination for females through age 26 since 2007.
• For adults age 27 through 45 years who have not been vaccinated: For this age group, ACIP recommends shared (between the provider and the patient) clinical decision making to determine whether or not a patient would benefit from receiving HPV vaccine. Some additional considerations were delineated in the ACIP guidance with respect to this age group, including the following points:
o Although new HPV infections are most commonly acquired in adolescence and young adulthood, some adults are at risk for acquiring new HPV infections.
o At any age, having a new sex partner is a risk factor for acquiring a new HPV infection.
o Persons who are in a long-term, mutually monogamous sexual partnership are not likely to acquire a new HPV infection.
o Most sexually active adults have been exposed to some, although not necessarily all, of the HPV types targeted by vaccination.
o HPV vaccine efficacy is high among persons who have not been exposed to vaccine-type HPV before vaccination.
The recommendations regarding the number of doses needed for completing the HPV vaccine series have not changed. Specifically, the number of recommended doses is based on the patient's age at administration of the first dose and their immune status
• Those who begin the HPV series before their 15th birthday should receive 2 doses, separated by 6–12 months. The minimum interval between doses is 5 calendar months.
• People who start the series on or after the 15th birthday and those with certain immunocompromising conditions (such as cancer, HIV infection, or taking immunosuppressive drugs) should receive a 3-dose series. The second dose should be given 1 to 2 months after the first dose, and the third dose should be given 6 months after the first dose.
References and Resources
• Human Papillomavirus Vaccination for Adults: Updated Recommendations of the Advisory Committee on Immunization Practices
References and Resources
• Human Papillomavirus Vaccination for Adults: Updated Recommendations of the Advisory Committee on Immunization Practices
• Use of a 2-Dose Schedule for Human Papillomavirus Vaccination—Updated Recommendations of the Advisory Committee on Immunization Practices
• IAC's handouts for patients, parents, and providers related to HPV vaccination web page (all are CDC-reviewed)
• EZIZ's HPV Vaccine – 2 or 3 Doses? From the State of California's Vaccines For Children program