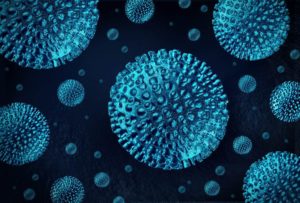 By: Kathleen Gaines BSN, RN, BA, CBC
The Center for Disease Control and Prevention (CDC) recently declared a national emergency amidst ongoing Hepatitis A outbreaks. In August, Florida was the most recent state to join the growing list of states to declare a Public Health Emergency.
In the United States, since the outbreaks were first identified, 30 states have publicly reported the following statistics regarding Hepatitis A:
Cases: 24,952
Hospitalizations: 14,984 (60%)
Deaths: 244
While Hepatitis A is on the rise in the United States, it has been an ongoing issue in countries that suffer from high levels of poverty and individuals who do not have access to clean drinking water.
The statistics for worldwide contraction is much more staggering. The World Health Organization estimated that in 2016, 7,134 persons died from hepatitis A worldwide. One of the largest outbreaks was in 1988 in Shanghai, China related to food and water that affected more than 300,000 individuals.
What is Hepatitis A?
According to the World Health Organization (WHO), Hepatitis A is a viral disease that primarily affects the liver. The virus is usually spread when an uninfected and unvaccinated person ingests food or water that has been contaminated with the feces of an infected person.
Most recently, major outbreaks have been linked to food products, particularly those that have been imported.
Hepatitis A, while fatal, does not cause lifelong liver disease and individuals that are successfully treated often have immunity after treatment. Symptoms can range from mild to severe and affect individuals very different. Furthermore, not everyone will have all of the symptoms.
Symptoms for Hepatitis A include:
Low-grade fever
Abdominal discomfort
Jaundice (a yellowing of the skin and whites of the eyes)
Dark-colored urine
Loss of appetite
Diarrhea
Nausea and vomiting
Muscle aches and pains
Itching
Clay-colored stool
Tiredness
Adults tend to have more severe symptoms than children. Most children who develop Hepatitis A will have flu-like symptoms including cough and sore throat and some will develop jaundice.
Hepatitis A is more concerning for the adult population.
Individuals over the age at 50 or already have long-term liver disease are at highest risk to develop the most severe form of Hepatitis A. Symptoms for these individuals include:
Spontaneous bleeding or easy bruising
Confusion and changes in alertness
Worsening jaundice
Worsening liver function
Who is at highest risk for contracting Hepatitis A?
Unfortunately, everyone that is unvaccinated is at risk of contracting Hepatitis A. The CDC and WHO have identified those at highest risk for contracting Hepatitis A. They include individuals that:
Use recreational drugs (injectable and non-injectable)
Have lack of safe water
Live in a household with an infected person
Are a sexual partner of someone with acute hepatitis A infection
Have unstable housing or homelessness
Men who have sex with men (MSM)
Currently or were recently incarcerated
Live in poor sanitation areas
Travel to areas of high endemicity without being immunized especially to Asia, South or Central America, Africa and the Middle East
Have chronic liver disease, including cirrhosis, hepatitis B, or hepatitis C
Live in a nursing home or long term care facility
Work in health care, food, or sewage industry
Eat raw shellfish such as clams and oysters
Hepatitis A Diagnosis and Treatment
Blood work is the only way to accurately diagnose Hepatitis A. Doctors will order the following labs:
Serum aminotransferases
Serum bilirubin
BUN
Creatinine
IgG anti-hepatitis A virus (HAV)
Reverse transcriptase-polymerase chain reaction (RT-PCR)
There is no specific treatment for Hepatitis A. Individuals that can pinpoint exactly when they got the virus can get a Hepatitis A vaccine or Hepatitis A immune globulin to prevent symptoms. This will only work if it is given very soon after coming into contact with the virus.
Symptoms will self resolve over several weeks to months. Most individuals will be fully healed by one year. With the exception of those in acute liver failure, hospitalization is rarely required and often outpatient management is sufficient.
How to prevent Hepatitis A?
The easiest and most efficient way to prevent Hepatitis A is to GET VACCINATED!
According to the WHO, nearly 100% of people develop protective levels of antibodies to the virus within 1 month after the injection of a single dose of vaccine. The recommendation is to receive 2 vaccine doses to ensure longer-term protection of about 5 to 8 years after vaccination.
Other prevention strategies include,
Adequate supplies of safe drinking water
Proper disposal of sewage within communities
Personal hygiene practices such as regular hand-washing before meals and after going to the bathroom
Improve sanitation
Vaccination
The Hepatitis A vaccine, first developed for mass distribution in 1995/1996 is an inactivated vaccine that should be given in two doses a minimum of six months apart. There is a live oral dose that is used in China in children over one year of age.
As of May 2019, 34 countries used hepatitis A vaccine in routine immunization of children in specific risk groups. A few of these countries include:
China
Argentina
Colombia
Australia
Mongolia
New Zealand
Cyprus
Greece
Belgium
Czech Republic
Austria
Israel
Saudia Arabia
Qatar
Bahrain
Most other countries recommend the vaccine for individuals in high-risk categories.
U.S. Outbreaks
Florida's outbreak has not been the first since the CDC and WHO started tracking outbreaks in 2016. According to the Florida Surgeon General, Dr. Scott Rivkees, from January 1, 2019, through July 27, 2019, 2,034 hepatitis A cases were reported.
A 2016 multistate outbreak has been one of the most severe in the United States. Frozen strawberries imported from Egypt were identified as the likely source of the outbreak. Individuals were infected when drinking smoothies containing the frozen strawberries at Tropical Smoothie Cafe locations primarily in Maryland, North Carolina, Virginia, and West Virginia. Th
During this outbreak 143 people with hepatitis A have been reported from nine states:
Arkansas (1)
California (1)
Maryland (12)
New York (5)
North Carolina (4)
Oregon (1)
Virginia (109)
West Virginia (7)
Wisconsin (3)
In August 2016, the Hawaii Department of Health identified raw scallops served at Genki Sushi restaurants on the islands of Oahu and Kauai as a likely source of the outbreak.
In 2013, 165 individuals developed Hepatitis A from pomegranate seeds imported from Turkey that were included in Townsend Farms Organic Antioxidant Blend. This outbreak affected ten states including:
Arizona (23)
California (79)
Colorado (28)
Hawaii (8)
New Hampshire (1)
New Jersey (1)
New Mexico (11)
Nevada (6)
Utah (3)
Wisconsin (2)
In 2018, the city of Philadelphia declared an outbreak of Hepatitis A due to the reporting of 171 cases in 36 counties over the course of a couple months.
An outbreak concentrated amongst San Diego's homeless population in 2016, sickened nearly 600 individuals and killed 20 people. 20% of these individuals also were infected with Hepatitis C and 5% had chronic hepatitis B.
Since 2016, there have been 555 reported cases in Michigan leading to 457 hospitalizations and approximately 20 deaths. A large portion of those infected suffered from homelessness and illicit drug use.
State-Reported Hepatitis A Outbreak Cases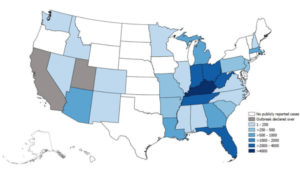 RESPONSE
The WHO and CDC have been working together with local governments to help reduce the incidence of Hepatitis A. In May 2016, The World Health Assembly adopted the first "Global Health Sector Strategy on Viral Hepatitis, 2016-2021". The goal of this is to reduce the global incidence of new viral hepatitis infections by 90% and reducing deaths by 65% by 2030.
For World Hepatitis Day 2019, WHO is focusing on the theme "Invest in eliminating hepatitis". The goal is to highlight the need for increased domestic and international funding to scale up hepatitis prevention and testing and treatment services
The CDC recommends that during outbreak, hospitals and health care providers need to
Increase the availability of the Hepatitis A vaccine
Perform pre-vaccination testing to identify those immune and do not need the vaccine
Defer the second dose of the vaccine if there is a shortage
Offer free vaccines to high risk individuals
Community outreach to homeless population
Hepatitis A is an ongoing global epidemic that all healthcare professionals need to be aware of. It is important to understand the risk factors, symptoms, and prevention strategies in order to properly educate patients.